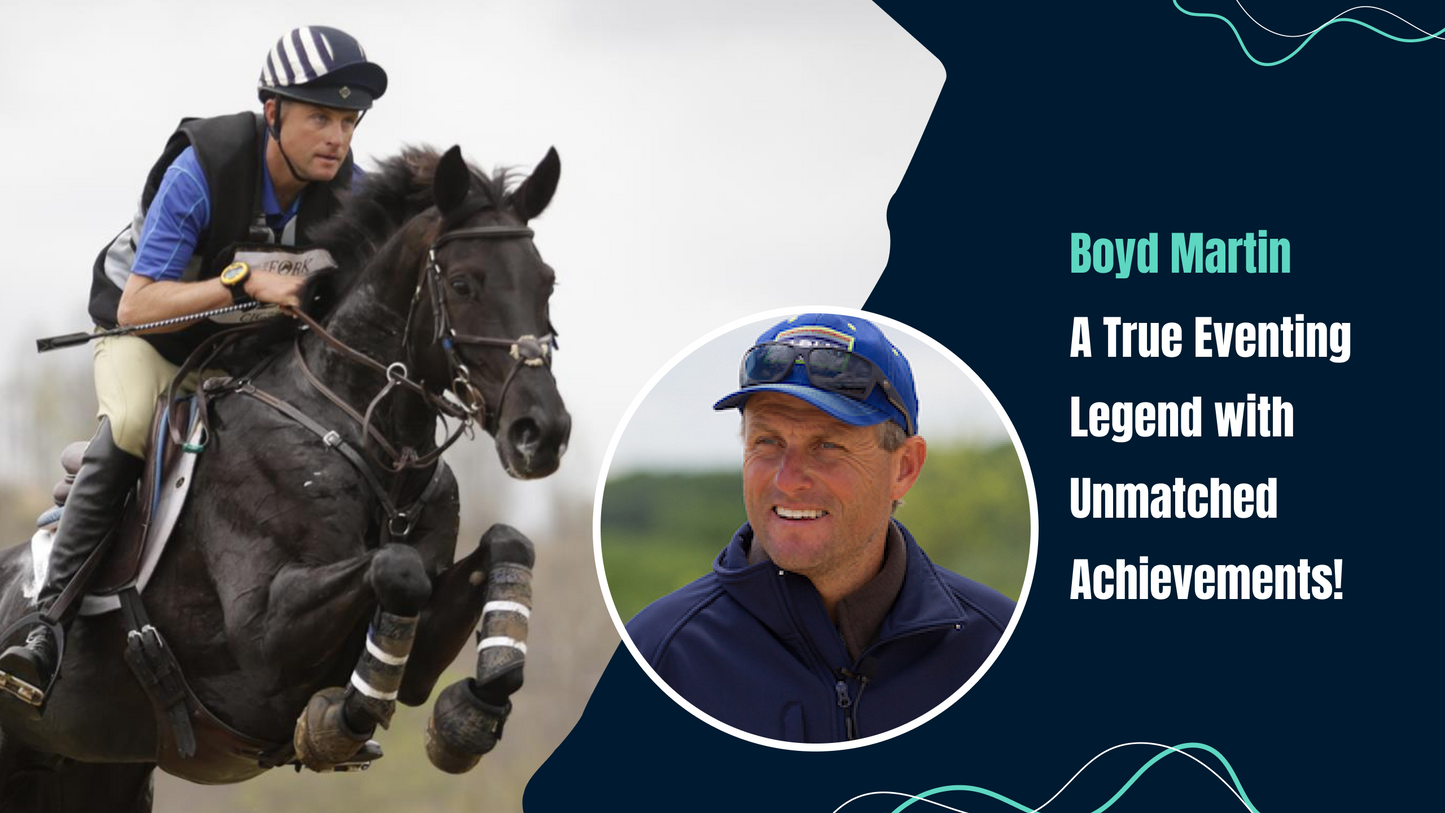 Any keen equestrian will surely know the name 'Boyd Martin'. He stands out not only for his victories and his performances at three separate Olympic games, but for his endurance during difficult times.
As the son of two Olympians (speed skater, Toy Martin and cross-country skier, Ross Martin), it may come as no surprise that this rider was destined for greatness too. With supportive parents who allowed him and his sister to explore a range of sports while growing up, he quickly discovered the joy of riding on their two-and-a-half acre home outside Sydney.  
Boyd Martin on Growing Up
Martin grew up in Australia, and fondly remembers the Pony Club down the road, where he began his equestrian career. He says: "When I finished high school, I became a working pupil for the legendary Heath Ryan and met people like Kevin McNab, Chris Burton and Jock Paget.
"There were a couple of hundred horses – for breaking in, dressage, jumping, sales and racehorses. It was a great education."
In 2003, at the age of 24, he won his first CCI4* (now CCI5*) at the Australian International Three-Day Event on a horse named True Blue Toozac. 
Becoming a US Citizen
In 2007, Martin moved to the U.S. to see if he could build a career as an eventing professional. He landed a job as an assistant trainer to Phillip Dutton, also Australian-born and two-time Olympic gold medalist. He worked for Dutton for two years before becoming a U.S. citizen and starting his own business.
Boyd Martin's Outstanding Olympic Games Performances
In 2012, Martin was able to achieve his greatest goal yet - performing in the London 2012 Olympics aboard Otis Barbotiere. He then also performed at Rio 2016 and Tokyo 2020, placing him amongst the top riders globally.  Representing his country, Martin's Olympic achievements reflect his dedication and truly showcase the connection he has with his horses. His performances in Tokyo 2020, Rio 2016, and London 2012 have placed him amongst the elite riders globally, particularly Tokyo, where he finished inside the top twenty while riding Tsetserleg TSF. 
Unforgettable Wins at the Kentucky Three-Day Event
Adding to his accomplishments, Boyd Martin achieved remarkable victories at the Kentucky Three-Day Event. He finished in 4th place at the 2021 Land Rover Kentucky Three-Day Eventing CCI5*-L, sponsored by MARS Equestrian. This event, known as the "Best Weekend All Year," beautifully showcased the harmonious connection between Martin and his horse, On Cue, highlighting their shared equestrian journey.
The Challenges and Triumphs: Behind the Scenes of Boyd Martin's Career
Every remarkable career has its hurdles, and Martin has certainly overcome his. In 2011, a barn fire resulted in the loss of 6 horses, impacting his top ride of the time, Neville Bardos. Bardos suffered severe smoke inhalation, but this didn't slow them down. Later in 2011, Martin and Bardos competed at Burghley CCI4* and achieved an astonishing 7th place. Bardos was awarded 'Horse of the Year' by USEF and Martin 'Overall Rider of the Year by The Chronicle of the Horse. After an incident such as this one, it can be difficult to rebuild trust between the horse and the rider. Martin was able to keep his strong bond with Neville Bardos, likely resulting in their positive performance at Burghley.
The difficulties he encountered only made Martin more determined, highlighting how taking care of his horses played a crucial part in his journey to success.
Inspiring a New Generation: Boyd Martin as an Icon and Mentor for Young Riders
Leaving behind this legacy, Martin now stands as an icon and mentor, inspiring a new generation of riders. He and his wife Silva, Grand Prix dressage rider, run a training and competition yard on their Pennsylvania Farm, Windurra. His teaching sessions across the U.S. during off-seasons are evidence of his commitment to the sport. The tale of his perseverance and dedication to both horse and rider wellness serves as an inspiration for budding equestrians. They have two sons, Nox and Leo Rossco, who we're sure will grow up to be excited riders too..
In equestrian sports, Boyd Martin stands as a symbol of unparalleled triumphs and enduring determination. His life story is certainly an interesting one, with plenty of highs and lows, but he is a rider that understands the wellness and happiness of a horse can impact your own performance. Within the world of equestrian sports, Boyd Martin undoubtedly ranks among the greatest, a testament to his enduring legacy.